IAEE Conferences attract delegates from the most influential government, corporate and academic energy decision-making institutions. Conference programs address critical issues of vital concern and importance to governments and industries and provide a forum where policy issues are presented, considered and discussed at both formal sessions and informal social functions.
IAEE typically holds three Conferences each year.
International Conference. This meeting is hosted by an active Affiliate of the Association. Recent meetings have been held in Istanbul, Wellington, San Francisco, Taiwan and Potsdam.
North American Conference. This meeting is hosted by the United States Association for Energy Economics. Recent meetings have been held in New Orleans, Houston, Ann Arbor, Washington and Mexico City.
European Conference. This meeting is hosted by an active European Affiliate of the Association. Recent meetings have been held in Vilnius, Vienna, Florence, and Bergen.
IAEE Conference proceedings are NOT copyrighted and are available for purchase online by visiting here.
Please find here the calendar on IAEE's upcoming Conferences as well as meetings from IAEE International Affiliates.
Further information on the events can be retrieved from the links below.
OFID/IAEE Support Fund for Students from Developing Countries
IAEE International Conference Information:
2014 New York City IAEE International Conference (June 15-18, 2014)
New York Conference Website
Call for Papers

2015 Antalya, Turkey International Conference (May 24-27, 2015)
Antalya Conference Website

2016 Bergen, Norway International Conference (June 19-22, 2016)
IAEE Asian Conference Information:
4th IAEE Asian Conference, Beijing, China - September 19-21, 2014
Call for Papers
Conference Website

USAEE/IAEE North American Conference Information:
Please refer to the upcoming USAEE conference website
IAEE European Conference Information:
2014 IAEE European Conference, Rome, Italy (October 28-31, 2014)
Conference Announcement & Call for Papers
Rome Conference Website

IAEE Affiliate and General Conference Downloads:
IAEE/ASSA Session, January 3-5, 2014
IAEE Sessions at ASSA Conference

7th NAEE/IAEE International Conference, Abuja, Nigeria, February 17-18, 2014
INOMICS - Jobs, Courses, and Conferences for Economists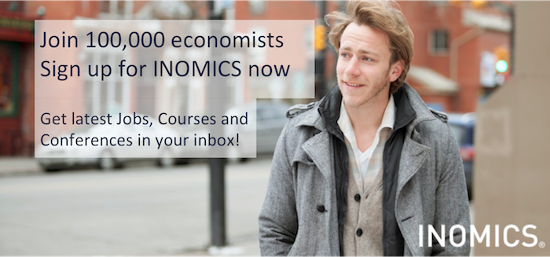 IAEE is proud to be partnering with INOMICS, the leading international platform for economics job, course, and conference listings. We encourage IAEE members to visit the INOMICS platform to discover new opportunities in energy and resource economics.
INOMICS is completely free to use - browse our listings and take advantage of our detailed search function to find exactly what you are looking for. We also offer a free weekly email alert service personalized to your needs – jobs, courses, conferences in the locations and JEL codes of your choice, delivered directly to your inbox.
In addition, as an exclusive deal for IAEE members only: get access to the INOMICS network of 100,000 PhD and Masters graduates from all over the world and advertise jobs, academic courses and conference. For IAEE members we offer a partnership discount of 20%.